Recyclability is necessary for green cosmetic packaging. In just US, 7.9 billion units of plastic cosmetic tubes packaging were produced. We have choked up our environment with plastic so much that we are at our limit. We need to opt for recyclable cosmetic packaging if we want our future generations to survive.
Plastic cosmetic tubes can be difficult to recycle because of the chemicals in many products. Fortunately, some alternatives allow us all to enjoy the convenience of plastic while still being environmentally friendly. Now, there are many materials that eco-friendly cosmetic packaging manufacturers can opt for that function the same as plastic cosmetic tubes, or even better.
The world is making a conscious effort towards sustainable production and consumption with the growing global population. The bio-economy approach merges these concerns by promoting innovation for eco-friendly industries in the packaging of their products.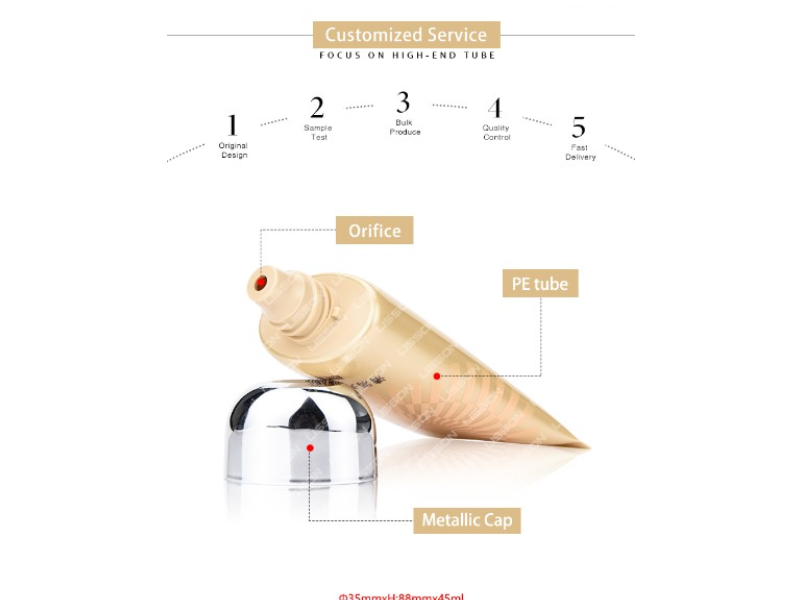 The rise of plastic packaging waste and the desire for sustainable solutions is pushing companies to find alternatives. Research into bio-based materials has led scientists who work in this field to develop new recyclable cosmetic packaging while maintaining sustainability and biodegradability standards.
As consumer awareness grows about how improper disposal can damage our planet even more than previously thought. Many other sectors like retail are looking at greener options, too. Consumer Reports' recent survey results found that nearly two-thirds or 64% of consumers believe there should be "some regulation" around single-use plastics.
So if you want to play your part in the wellness of our environment and normalize recyclable cosmetic packaging, we have a few tips for you.
6 Ways Encourage Your Customers to Recycle More
As a cosmetic brand, it's up to you to make sure that your product packaging is convenient for consumers and recyclers alike. It can be hard work, but with these six ways, you'll always have a customer who is willing to recycle. 9 out of 10 people say they would reuse an old container if given proper instructions on how to do so. Since consumers are willing, all they need is a little push.
1. Choose sustainable packaging materials.
As a company, you want to make sure that the end customer can easily recycle your packaging. This way, it isn't going into landfills which will only contribute more harmful chemicals onto our environment for years and decades after we recycle these materials themselves.
More than 2 million tons of plastics are used in US packaging annually. This can be an unsustainable and clutter-filled habit for our environment, which is why we must find alternatives like PCR Plastic Packaging.
eco-friendly cosmetic packaging manufacturers should create fully recyclable materials like Aluminum. As we all know, you will need to add virgin material every time you recycle plastic. So it is better to make a conscious effort as a cosmetic brand to opt for materials like Aluminum or PCR that are 100% plastic.
2. Make recycling information more prominent.
The recycling symbol should be one of the most prominent parts of your branding. It should be bold and clear so that customers can easily spot it on their green cosmetic packaging. As you may have figured out by now, brands have many different ways to display this information.
Also, the instructions to recycle their cosmetic packaging should never be hidden behind small fonts on some corner. You don't want to irritate your consumers. All of the recycling instructions should be listed in easy wording at the front of your recyclable cosmetic packaging.
3. Consistent Recycling information
Recycling is one way we can keep our planet green. It's essential to make sure the recycling information doesn't get lost in all those other logos and text, so be consistent with where you put it across your different recyclable packaging for cosmetics products.
4. Reusing is another form of recycling
Reusing your cosmetic packaging is an easy way to help out the environment and reduce waste. If you want your customers to be environmentally conscious, offer reusable green cosmetic packaging. You can print the labels on them with messages like " reuse this for ____" or even offer refill packs of eco-friendly products in order to ensure that they use the same packaging again and again instead of using new ones. It's essential to be mindful of our environment and encourage the reuse of as many things as possible.
5. Eco-friendly schemes
You might need to get a little creative if you want to encourage or even compel your consumers to opt for recyclable cosmetic packaging. Many cosmetic brands offer eco-friendly schemes that encourage eco-friendly behavior in customers, and there are tons of examples out on websites these days to get some inspiration.
Some Brands offer discounts on reusable products. It sounds super cool because not only do you get good business that will last longer, but you also support the environment too. You can include a recycling scheme on your recyclable packaging for cosmetics products to increase customers' chances to reuse or recycle their packaging.
6. Easier recycling
Recycling used packaging is easy, although it might not seem that way to everyone. This can be especially true if your company only recycles certain packaging elements like pumps or pull-to-openers and leaves behind other parts that cannot be recycled for various reasons. You should always ensure an appropriate recycling center has approved all parts within each cosmetic product you sell before putting them on shelves as recyclable cosmetic packaging. So end-users don't need to worry about whether their item will get processed at all. You don't want to confuse your consumers and make the whole recycling process as simple as possible.
Get your recyclable cosmetic packaging today!
If you are trying to play your part in the betterment of the environment and can't figure out a way, you are at the right place. We have helped many cosmetic brands like you to go green. You can be the next one! All you have to do is leave us a message and we will get back to you. Let's join hands to protect our environment.