Cosmetology and skincare products are the daily necessities of life. Every girl will have several cosmetics in her satchel. Make-up has become the norm and competition in the cosmetics industry is becoming increasingly fierce. We can create a huge gap in everything from packaging to printing, to the quality of cosmetics companies, to the price. In terms of packaging, cosmetic packaging has glass, plastic, plastic and so on. A common one is probably a plastic tube. Plastic Tube is a convenient, environmentally friendly and cost saving option from the point of view of brands, suppliers and consumers. Cosmetic plastic tube can be flexibly applied to all kinds of decoration for packaging materials of other products in the enterprise, while improving production management and making it faster than other related materials. The packaging tube can not only choose the color favored by the brand, but also has the metallic texture and mature printing technology. The separation of the cover tube can give consumers greater flexibility to extrude the product. It can be said that the packaging tube itself is the billboard of the brand and the product. At present, for the basic problems of cosmetic tube of merchants, the production can be customized. Lisson Cosmetic Tube Packaging Co., Ltd. is a Taiwanese-owned enterprise specializing in the intelligent production of plastic packaging for cosmetic tubes and cosmetic boxes. The manufactured Cosmetic Tube and Bottle can be widely used in many different industries such as cosmetics, daily necessities, medicine and food in China, and are sold to the United States, Japan, South Korea, Southeast Asia, Arab countries and some European and American regions.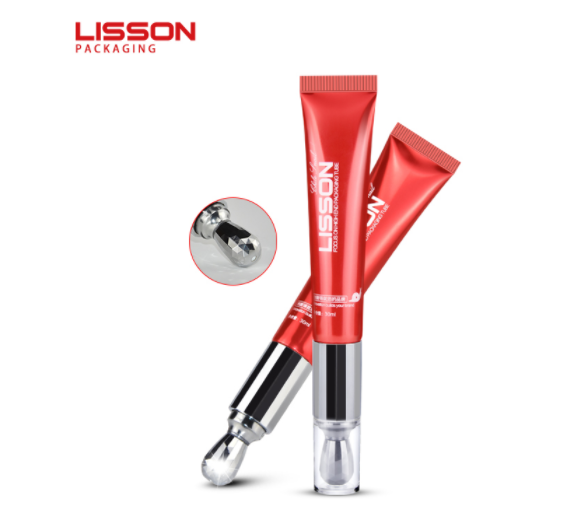 Lisson Cosmetic Tube Packaging specializes in the supply of High End Ice Massage Eye Cream Tube, Five Bead Scraping Tube, Bian-Stone Massage Scraping Tube, Air Cushion Powder Puff Tube, Sponge Head Cosmetics Tube, Face Brush Cosmetics Tube, Screw Cap Cosmetics Tube, etc. Lisson Cosmetic Tube Packaging, using traditional offset printing, screen printing, hot stamping and other processes, is designed with ice and gently massage to promote the absorption of Trophoblast Cell ingredients around the eyes of students, effectively using to relieve eye skin and improve fine lines around the eyes, dry lines around the eyes and other eye problems. Lisson Cosmetic Tube Packaging has received a Utility Model Patent Certificate and Utility Model Patent Assessment Report for its high-end Wuglianzhuo scraping tube! With a switch system function analysis can be controlled by the amount of the operation combined with simple and convenient, easy to extruder, built-in 3000 gauss magnet, help absorb blood dirt, promote the effect of scraping.
Sponge Head BB Cream (foundation) Beauty Tube, Sponge Head Cover is suitable for foundation, BB cream, etc. Sponge head is made of imported NBR material, mild, antibacterial treatment, safe and non-toxic. Sponge head density distribution uniform design, moderate elasticity, fine and soft texture, easy to powder, the effect is more uniform. Good water absorption, strong wear resistance, heat resistance, not easy to break, do not drop debris, easy to clean. Lisson Cosmetic Tube Packaging can be customized face to face by undertaking process, material, color, pattern, size, shape and other parties. Lisson Cosmetic Tube Packaging Factory operates under the philosophy of "quality, close to exacting requirements", enhancing talent development and continuously updating technology. After 35 years of continuous development and efforts, China is now a complete range of product design manufacturers in the market.