Cosmetic tubes are more suitable for cosmetics with strong viscosity because they have small diameter and high viscosity. However, the most important thing that you need to understand is that in the world of cosmetics, looks do matter. If your squeeze tubes don't look good, consumers won't take interest in your product no matter how awesome your product is!
The good thing is that you don't need to be an experienced designer or a big firm to design aesthetic wholesale cosmetic tubes! We have explained everything you need to know in order to design the aesthetic squeeze tubes without any prior experience.
Color:
Color is a powerful tool for creating an aesthetic design for your wholesale cosmetic tube packaging. But it has to be used carefully.
The use of color can create a positive emotional response in the consumer, and if you choose the wrong colors, you'll be sending the wrong message.
Color is one of the most important elements in cosmetics packaging design. It conveys a message of quality, personality and emotion. Color can be used to attract attention, signal safety or indicate the product's benefits.
Selecting a color scheme for your cosmetic packaging should follow some simple guidelines:
●Choose colors that complement each other and go well together, this will create harmony in your design
●Contrasting color combinations should be avoided, in favor of complementary colors that blend.
●Pay attention to the psychological effect of color, red, for example, indicates passion and action.
Here are some basic rules to follow when choosing colors:
●Avoid contrasting color combinations, they may not go well together. Instead, choose complementary colors that blend well and look great together.
●Pay attention to the psychological effect of color, red, for example, indicates passion and action. Yellow is associated with happiness and creativity, blue with trust and loyalty, green with nature and money, purple with royalty, orange with warmth, gray with calmness, white with purity.
●If you're going to use only one color for your packaging design, make sure it's a neutral one (white or black) so it doesn't compete with other elements like graphics or photos on the label."
●If you are selling a luxury item then consider using gold lettering or accents as these convey status and classiness.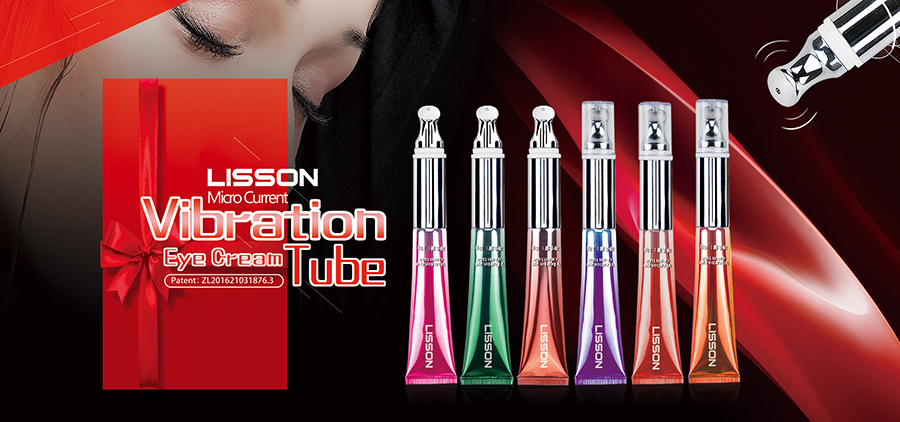 Texture:
The smoothness of the tube surface is a factor that affects its aesthetic properties. To be considered a good candidate, the squeeze tube needs to be smooth enough to prevent the product from being slipped. Smoothness and roughness are additional factors to consider in cosmetic tube design. Smoothness refers to the degree to which a surface feels smooth, while roughness refers to the degree to which a surface feels rough. The two terms are often used interchangeably. However, when designing cosmetics, you should keep in mind that the texture of your cosmetic squeeze tube packaging will affect how consumers perceive and interact with it.
Examples of products that could benefit from adding texture include skincare products, makeup products and lip balms. Some people prefer smooth plastic tubes over rougher ones because it makes them feel like they have more control over their application process. This can be especially important for skincare products because having too much control over an application process can lead to contamination or waste of products due to spillage or dripping. On the other hand, adding too much texture can make it harder for users to open the container or get their fingers inside of it at all if they need to do so for any reason (such as cleaning).
Texture is another important aspect to consider in cosmetic tube design. Smoothness and roughness are additional factors to consider in cosmetic tube design. The smoothness of a product can be perceived as luxurious, and the roughness can create a sensation of high quality.
The shape of wholesale cosmetic tube:
Cosmetic tube is a container that is used to contain and protect cosmetic products. It is usually made of plastic or aluminum and can be decorated with various techniques such as printing, embossing, UV coating and other techniques. In addition to the form effect that meets the practical needs, the shape of the cosmetic tube has also been simplified to meet the aesthetic requirements.
According to statistics, in recent years, the trend of cosmetics has been moving towards a more natural and pure aesthetic style. In terms of packaging design, simple and minimalist packaging is also popular. For example, white powdery cosmetics use black tubes with golden text to express luxury, while green-colored cosmetics use white boxes with green printing to express nature.
Compared with ordinary plastic tubes, the shape of cosmetic tubes is more delicate, elegant and fashionable. Many high-end cosmetics use metal materials for their packaging, giving consumers a sense of luxury. The shape of cosmetic bottles is also very diverse. The square tube can show people's vitality and enthusiasm; the round tube looks like a pearl, and the oval tube can give people a sense of gracefulness and elegance.
The form of the cosmetic tube is a combination of practical and aesthetic considerations, so the shape of the cosmetic tube is also very unique. The wholesale cosmetic tube is divided into two categories: the first is the container for liquid products, such as shampoo and shower gel, the second is for solid products such as cream and hair dye.
The shape of the cosmetic tube is also divided into two categories: one type has a short neck and another has a long neck. The short neck contains liquid products, which are easy to pour out of the tube, but it is inconvenient to use when you want to apply the product directly on your face. On the other hand, long-necked tubes can be used directly on your skin, but it is difficult to pour out.
Reflection of the temperament of the brand:
The aesthetics of the squeeze tube design is not only a major factor in determining whether the product can attract consumers' attention, but also a key factor in determining whether the product can be sold well. In addition, it is also an important part of brand image and corporate identity.
A good cosmetic tube design package must be able to uniquely reflect the temperament of the brand. It must have a unique design style, reflecting the personality and artistic characteristics of the product to attract customers' attention at first sight. The more suitable it is for a certain kind of product, the more effective it will be in attracting customers' attention.
The most common ways to express the temperament of the brand is through color and texture, as well as other visual effects such as shadows and light. The visual effect is not limited to these elements alone; it may also include other elements such as words or numbers.
Design:
The design of the wholesale cosmetic tube is always in line with the nature of the product itself. For example, we can see that there are some aspects that can be incorporated into the design of cosmetic packaging. One is the use of bright colors to attract attention. Another is through the use of different shapes and sizes, which can make customers have a sense of curiosity when buying cosmetics.
The choice of packaging design determines whether or not consumers will buy them, because it will affect people's feelings about their products. If you want to sell more products, then you need to choose a suitable design for your product packaging and make sure that it matches your brand image.
The design of the cosmetic tube also matters because it helps in conveying the message of the product. For example, if you are selling a sunscreen cream, then you will have to make sure that your packaging is sturdy enough so that when someone buys it they know that they are buying something good and useful.
The design of the tube is always an extension of the product itself. For example, if it is a liquid or cream, it will be more suitable to use a transparent squeeze tube, so that consumers can see how much product remains inside. If it is a gel type or paste, then you can use a white or transparent tube. If it is powdery cosmetics such as blush, then you should consider using an opaque tube to avoid damaging it when you carry it out.
In terms of color matching, cosmetic squeeze tubes can be divided into five types: red, yellow (or orange), blue, green and purple. The choice of design depends on many factors: whether there is any pattern on the label, whether there are other complementary elements on the label, whether there are other promotional elements on the label such as stickers and so on, whether there is any special meaning attached to a specific color or shape and so on.

Exterior decoration has become more natural, comfortable and artistic.
Cosmetic tube is an important component of cosmetic packaging. It is used to contain, protect and promote the product. The exterior design of the tube has become more natural, comfortable and artistic.
The appearance of cosmetic tube packaging is getting more elegant and artistic. The outward appearance of the product is a key factor affecting consumer purchase decisions. It can be said that the appearance of cosmetic packaging is a kind of art object, which requires the designer's creativity to create a unique style.
In recent years, some cosmetic tube suppliers have introduced a new concept of "natural" cosmetics packaging design. This type of packaging uses natural materials such as paper and sugarcane as raw materials, so as to reduce environmental pollution caused by plastic products, while maintaining the aesthetic value of traditional packaging materials such as glass tubes.
The outer surface of the cosmetic tube is gently polished, which not only has a good appearance, but also has a good tactile feeling. The texture of the surface can be in line with the product's texture. Such as: rough and smooth, matte and glossy, etc., which makes the cosmetic tube have a natural and comfortable feeling when holding it.
The exterior decoration of cosmetic tubes is an important element in product design because it can directly affect the consumer's overall impression of the product. The external appearance of a cosmetic squeeze tube is very important in creating a good first impression on consumers.
The aesthetics of cosmetic tubes can be seen from exterior decoration and colors. The exterior design of the cosmetic tube is more varied and coordinated. The color scheme of the cosmetic tube is also more diverse, which can make the product more attractive.
Sustainability and eco-friendliness:
The tube is the most common packaging form for cosmetics and personal care products. While there are many different types of tubes, they all have a few things in common.
In general, cosmetic tubes are made from plastic, which makes them lightweight and inexpensive to produce. They also come in a wide variety of colors, shapes and sizes.
Because of their low cost and versatility, plastic cosmetic tubes are an attractive option for many brands. However, there are some drawbacks to using them that brands need to consider before making a decision about adopting this packaging form in their product portfolio.
Sustainability is playing a larger role in consumer decisions and packaging must be environmentally friendly. Consumers want to know that the products they're using are safe for them and the environment, especially when it comes to personal care products like makeup or sunscreen. As such, brands should consider how sustainable their packaging is when deciding whether or not to use cosmetic tubes as one of their primary packaging forms.
The consumer expectations for eco-friendly cosmetic packaging are increasing. In fact, according to Packaging Digest's Consumer Packaging Trends Study, 51% of respondents said they would be willing to pay more for eco-friendly products and packaging.
In addition to being environmentally friendly, the aesthetic of wholesale cosmetic tube is also important. Consumers want their products to look good on their shelves and in their homes, so aesthetically pleasing design is essential for both food and nonfood brands.
For example, consumers are looking for functional packaging that will protect their product from dirt and debris as well as preserve its freshness.
The aesthetic design of cosmetic tubes is the first thing that attracts the customer, so it should be attractive and attractive. But at present, environmental protection has become a trend in the cosmetics industry. The demand for environmentally friendly products has risen dramatically in recent years. Cosmetic tube manufacturers need to pay attention to this issue.
Conclusion:
Cosmetic squeeze tube also plays an important role in expressing the brand's identity and value. As a result, it is necessary to pay attention to the aesthetic characteristics of cosmetic packaging throughout all stages of production and marketing activities. In order to make sure that your cosmetics are selling well on the market, you should pay attention to these points when choosing your packaging material:
●The color scheme is unified and consistent with that of other products in the same series.
●The color should be bright and eye-catching so that consumers can see it easily. If the color is too dark or dull, consumers will not be able to see it clearly or recognize what kind of product is inside;
●The size of the container is suitable for filling cosmetics without wasting space or making it difficult to use after opening; it should also be easy to open and close, convenient for cleaning and keeping clean, easy to carry around with you, etc..
●You need to choose a beautiful shape and pattern for your products. This will help make them stand out from other similar products on display shelves in supermarkets or cosmetic stores.