For cosmetics, marketing and branding are all about making a connection with the customer. You want to send signals that your product is worth attention. You want customers to see your product's cosmetic packaging on a shelf and get excited at the prospect of owning it.
Metallics can help you achieve that goal.
A metallic finish adds depth and an eye-catching element to cosmetic tube packaging. The surface of cosmetic packaging tubes printed on metallic stock is often very smooth, catching the light and reflecting it in ways that enhance the design elements.
Metallic inks and foils are widely used in cosmetic tube packaging. They can make a statement, set your product apart from the competition, or provide a special tactile feel that engages consumers.
Metallics are a popular choice for packaging. Here's our guide to using them effectively in your designs.
Why metallics?
There are plenty of reasons why metallics are a great addition to any design. They add an instant shine, catching the light and attracting attention. They offer a premium feel, creating the impression that your product is more valuable than its cost. And they can complement your brand's personality, whether you want something classic or contemporary.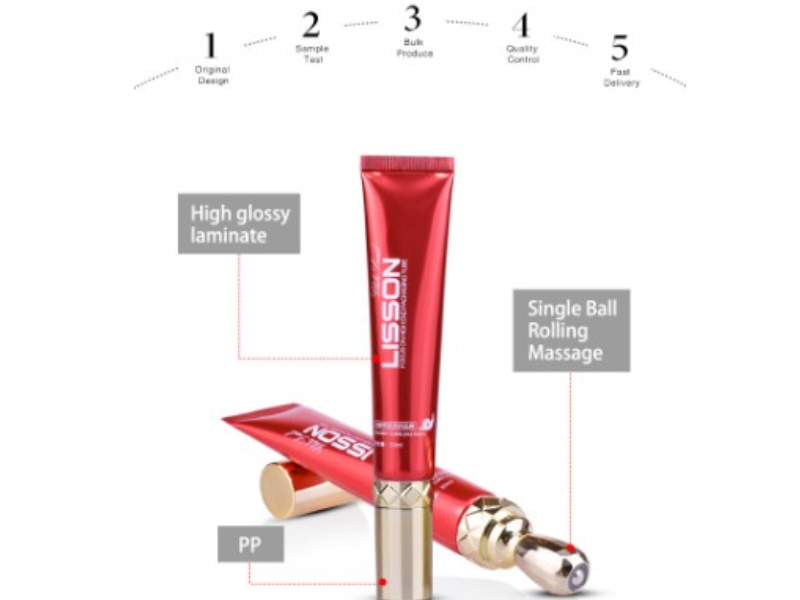 Metallic ink is a common feature in many of today's top brands.
Metallics rarely lose out to other finishes in terms of perceived quality and premium feel, but there are situations where others come out on top. Gold foil, for example, offers a more luxurious look than silver or copper foil, which means it's great for high-end brands that want to stand out from the crowd and showcase their products as exclusive or limited editions.
Gold, Silver, and Platinum, what about Blue, Yellow, or Red?
Gold, Silver, and Platinum were once considered by cosmetic tube packaging suppliers as the only metallics that could be used on product packaging. Today, Gold, Silver, and Platinum are much more common and many other metallic colors can be found in squeeze tube packaging designs.
Let's start with the basics. The metallic color results from light reflecting off of a coating applied to paper or board stock. The metallic look on packaging can come from the use of foil or a varnish that has been formulated to produce a metallic appearance from light reflection.
Metallics are now available in a full spectrum of colors, from neon to pastel and every hue between. There's also a wide variety of finishes, ranging from pure metal to matte and satin and everything in between.
What's more, metallics are available in foil, ink, holographic effects and other options that can be printed on paper or film.
Here are a few popular options for adding metallic colors to your cosmetic tube packaging:
1. Metallic Foil: This is the classic approach, with a shiny metallic finish that's both beautiful and functional. The metallic effect is created by applying heat and pressure to the material during the printing process.
2. Metallic Ink: When you want a more subtle metallic look that still has plenty of shine and sparkle, this is a great way to go. These inks can be used to print on paper or film in any color you choose, including metallic shades like gold, silver, blue and pink.
Metallics are an essential part of squeeze tube packaging for many reasons. They can increase perceived value, add to the elegance, and draw more attention to a product than standard colors.
As with any other color, metallics are not all created equal. The same metallic may look different on one material than another, and the same metallic may have different effects when combined with a particular color.
When you decide to design cosmetic packaging tubes that use metallics, it is important to consider all of these factors in order to maximize your results and get the most out of your makeup packaging.
Opt for digital cold foil:
There are two basic methods for adding metal to squeeze tube packaging processed by cosmetic tube packaging suppliers: digital cold foil and traditional foiling. The first method, cold foil, is relatively new on the scene. It uses an adhesive that's printed directly onto the cosmetic packaging tubes using regular inks. Next, a thin layer of metal is pressed onto the adhesive using heat and pressure. Because you can print the adhesive anywhere on the substrate (something not possible with traditional foiling), you have more control over where you want to place the metallic. You can also mix colors together and create gradients by mixing different shades of metallic inks with each other in layers. The downside of this method is that it doesn't add texture or "pop"!