As we all know plastic squeeze tube with caps is convenient, cost-effective and food-grade as one of the popular packaging for medicine, cosmetic, food and more. Since last 90s, a fair amount of plastic squeeze tube manufacturers in the east imported high-tech equipment for plastic squeeze tubes with caps manufacture from developed countries, henceforth, a strong and tense trend of plastic squeeze tubes develops.
Nevertheless, the first thing plastic squeeze tube manufacturer need to think about is hygiene performance, especially for cosmetics, and medicine, the second comes down to mechanical strength, barrier performance, printing, chemical resistance, and convenience respectively.
Compared to the plastic squeeze tube packaging of other products, cosmetic tube packaging demands more in terms of water and oxygen barrier. On the one hand, cosmetic fats containing water may contain mould and yeast, which will produce oxidation of fats, hydrolysis of fats, and oxidation to fatty acids and glycerides increase the water in the fat, on the one hand, will cause the hydrolysis of fat, on the other hand, which will accelerate the automatic oxidation reaction, providing a living environment for microorganisms, reducing the vitality of certain antioxidants such as polyamines. In addition, some powder products have to prevent absorption of water and cause caking, hardening and deterioration, so many cosmetic plastic squeeze tube packaging needs to block the entry of water; on the other hand, some products containing water are used for skin cleansing, so they must be kept at a certain water content for a certain period of time, and therefore, water must be prevented from escaping. Oxygen is a major factor in the rancidity of cosmetics.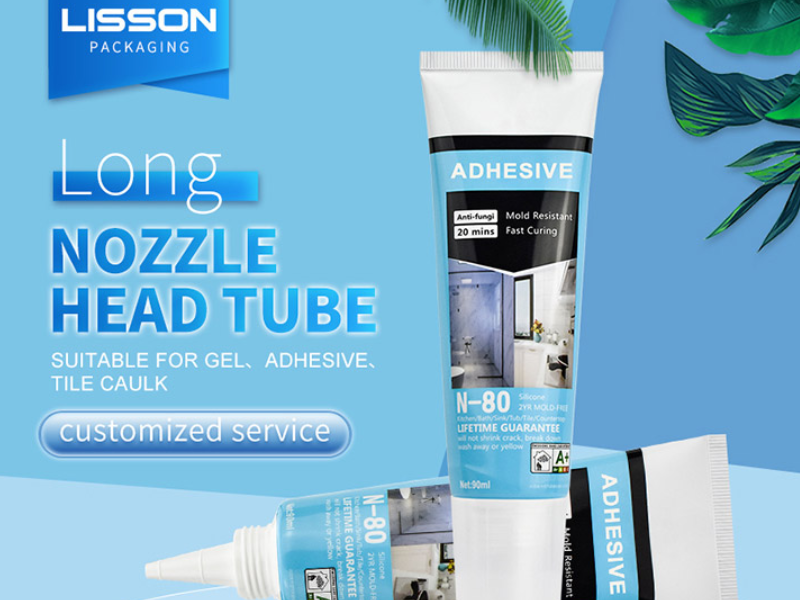 Most cosmetics contain oil and grease components. The unsaturated bonds in oils and fats are easily oxidized and cause deterioration and rancidity. As long as a small part of the unsaturated fat begins to oxidize, it will cause complete rancidity of the fat, thus reducing the quality of the product. Therefore, in the production, storage and use of cosmetics, makeup businesses should try to avoid the occurrence of oil and grease rancidity and prevent the entry of oxygen by using better plastic squeeze tubes with caps from professional squeeze tube manufacturers.
From a comprehensive point of view, plastic squeeze tube with caps has the advantages of other materials that are difficult to compare, therefore, since its introduction, it has emerged in cosmetics and pharmaceutical squeeze tube packaging. At present, plastic squeeze tube has become an indispensable form of packaging for cosmetics and pharmaceuticals.
Types of cosmetic plastic squeeze tubes made by cosmetic tube manufacturers and suppliers
1.AS plastic squeeze tube: doesn't have strong hardness, more brittle, a crisp sound when struck, transparent color, and the bottom color blue can be directly in contact with cosmetics, food. In the ordinary lotion bottle, AS is generally the material of the vacuum lotion bottle, but also cosmetic bottle manufacturers can make small capacity transparent cream bottle.
2.ABS squeeze cosmetic tube: this belongs to the engineering plastic, which is not environmentally friendly, due to its high hardness, therefore, this type plastic squeeze tube can not be in direct contact with cosmetics, food. In the acrylic cosmetic tube packaging materials manufacture, ABS is generally the material of the inner lid, shoulder cover. The color is yellowish or milky white.
3. PP, PE plastic squeeze tubes are defined as the environmental protection materials, such cosmetic squeeze tube can be directly in contact with cosmetics, food. It is the main material for filling organic skin care products, the material is white in color and translucent. According to the different molecular structure of cosmetic squeeze tube, it can reach three different degrees of hardness and softness.
4. PET cosmetic squeeze tube: It is an environmentally friendly material, which can be in direct contact with cosmetics and food. It is the main material for filling organic skin care products, PET material is soft and transparent for bulk cosmetic squeeze tube manufacture.
5.PCTA, PETG plastic squeeze tubes have been used to sustainable cosmetic tube packaging at cosmetic tube factory production, they can contact with cosmetics and food directly. PCTA and PETG cosmetic tubes are soft and easy to scratch, but not commonly used for spraying, more printing.
6. Acrylic cosmetic tube: the material is harder, transparent, and the base color is white. In order to maintain a transparent texture, acrylic squeeze tube is often sprayed inside, or coloring during injection molding as plastic squeeze tube manufacturers produce them.