The cosmetic tube caps and applicators are the most important part of packaging. They are used to protect the contents of the tube from damage, contamination, oxygen and light. The caps help to ensure that the product is not damaged during shipment, storage and use.
Caps are also used to protect the contents of tubes from being tampered with by other people or objects. They are often used in conjunction with lids or sleeves.
Cosmetic tube caps and applicators are used as a lid for cosmetic containers and are important for the proper functioning of the product. If a cosmetic container does not have a cap on it, then it will not be protected from moisture and other elements that can cause damage to the product.
A tube cap is an essential tool for protecting your products from contamination, especially during shipment and storage. Without them, you risk losing sales by having customers open up the packages and contaminate their product with bacteria or other microbes. So, if you are designing squeeze tube packaging for your products, it's essential for you to take into account your caps and applicators. How? With the help of the following guide, you will understand everything about closures and applicators.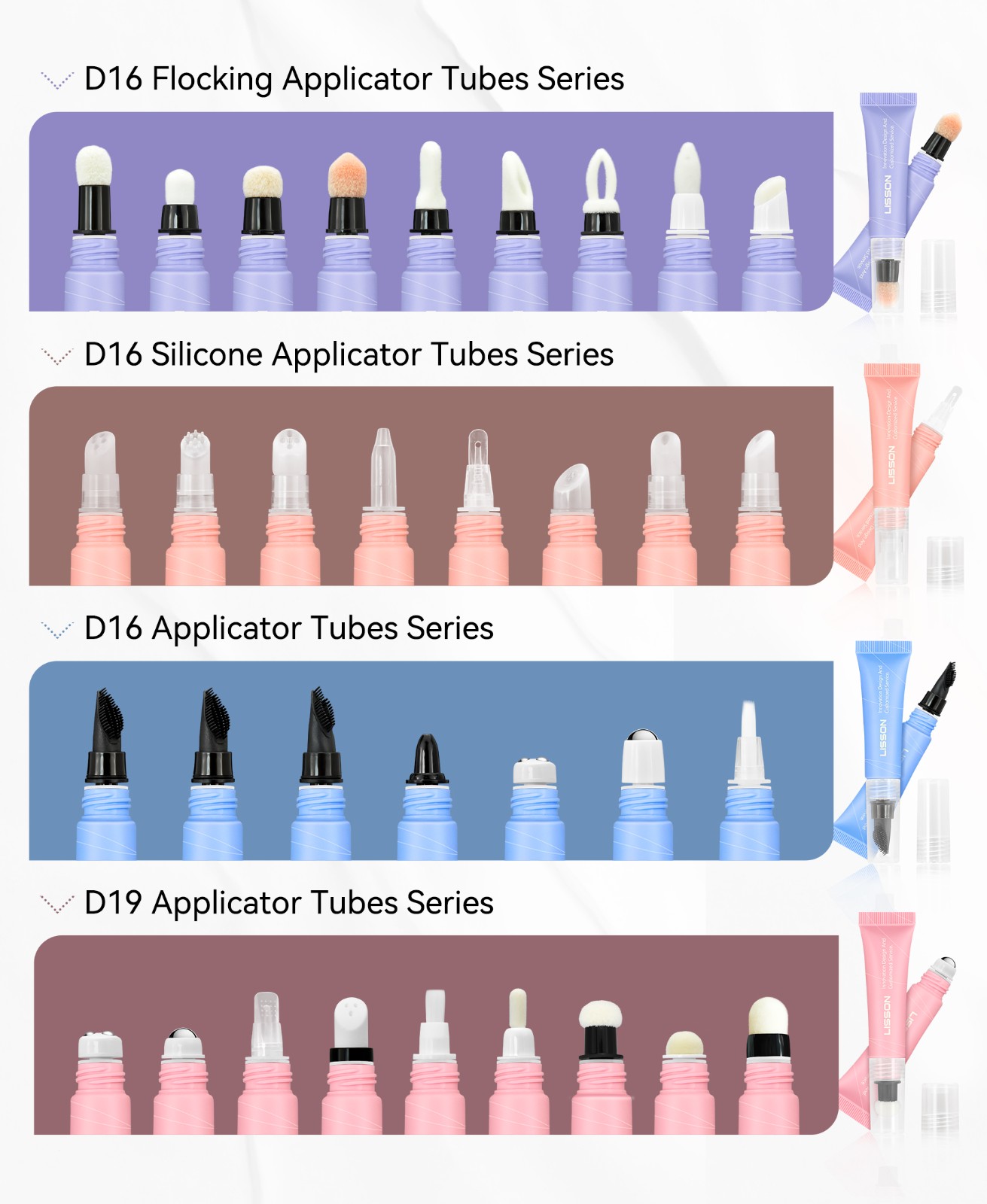 What are cosmetic tube closures?
Cosmetic tube caps are used to close cosmetic tubes. They can be made of plastic or metal, and they are ideal for packaging products that are sensitive to air. Cosmetic tube caps are a cost-effective way of helping your customers keep their products protected.
Cosmetic tube caps are used to protect the cosmetic tube during shipment. The cap is typically made from plastic and has a flanged base that it screws onto. The flange prevents the cap from unscrewing if it is dropped, helping ensure the safety of the product inside.
A squeeze tube cap or top is a small piece of plastic or rubber that fits over the end of a plastic tube. The tube cap is designed to protect the tube from getting damaged, so it does not get stuck in a product, and also provides a smooth surface for applying products to the skin.
When it comes to beauty products, you don't want to spend a lot of time or money on something that will sit in your bathroom cabinet and never be used. Our cosmetic tube caps are the perfect solution for keeping your beauty products organized and protected. We offer a variety of sizes and styles so you can choose the one that suits your needs best.
Cosmetic applicators:
Cosmetic applicators are used to apply eye shadow, lip gloss and other cosmetics to the face. They come in different shapes, sizes and colors so that you can find one that matches your product perfectly.
Cosmetic applicators are used to apply cosmetic products directly to the skin. They come in a variety of shapes, sizes and materials. The most common types of cosmetic applicators include foundation applicators, lip brush applicators and mascara wand applicators. Each type of applicator has its own unique features that make it work best for different types of cosmetics.
Foundation applicators are designed to allow you to apply foundation easily and precisely. Some models feature an integrated sponge tip that allows you to blend your foundation quickly and easily by simply pressing down on it with your fingers. Others simply use an embossed sponge tip that is designed for use with liquid makeup products instead of cream or powder formulas. Foundation applicators come in a range of sizes depending on what type of formula you're using them with, but most are available in either 1 oz or 2 oz sizes.
The importance of cosmetic caps and closures:
As we mentioned earlier in this article, tube caps are essential parts of your packaging solution because they help protect your products from contamination during shipping or storage. You also need to make sure that your packaging solution isn't just aesthetically pleasing but also functional, otherwise you'll be losing out on sales due to leakage problems or poor hygiene standards.
Cosmetic tube caps are used to protect the opening of a bottle or jar so that it doesn't get dirty or damaged. A sensitive liquid is usually stored inside these bottles so it's important that you keep them clean and germ-free. We offer many different types of lid caps to suit all kinds of containers including clear, plastic, metal and silicone. We also have several different styles available including snaps, latches and hinges. So, if you are interested in getting professional help, reach us out right away.
How to find the best caps and applicators?
Know the differences between types of caps. There are three basic types of plastic caps: Standard, Fliptop and Sliplock. Standard caps have a small hole at the top that allows liquids to flow through them. Fliptop caps have a larger hole at the top so that they can be used with pumps. Sliplock caps have a slit in the middle that fits over a pump's nozzle orifice so that liquid drips out into the pump chamber instead of leaking out all over your product's surface!
The cap and applicator are the two parts of your cosmetic tube that hold your product and help you apply it to your skin. If a tube has only one cap, it's called a "one-piece" tube. But if the cap and applicator are separate, the tube is called a "two-piece" squeeze tube.
All plastic caps and applicators are not created equal. Here's what you need to know:
1. The type of plastic makes a difference in how long it'll last before breaking down or cracking. Each type has its own special properties, which can impact how well they work with different products and alloys.
2. Plastic squeeze tube caps may be made from polypropylene (PP), polyethylene terephthalate (PET), polystyrene (PS), or ABS plastic, each with different durability levels and chemical properties that affect their ability to withstand heat, cold and other variables over time.
3. Squeeze tube applicators come in a variety of sizes, including round and square, some may be small enough for children's mouths while others will fit adult lips perfectly. You may want to choose one that sits perfectly with your product and your target market.